Table of Contents
Since its initial launch, WholesaleX has quickly become the leading force in the world of eCommerce wholesale. This dynamic plugin has taken the industry by storm, offering a remarkable array of features that make it the ultimate choice for creating wholesale stores.
For those seeking a powerful, feature-rich solution to create a dynamic B2B wholesale store, WholesaleX stands as the answer. Its intuitive user interface and formidable feature set combine to push your eCommerce venture to remarkable heights.
So, what's inside? Let's not waste time and explore WholesaleX and the features it provides.
What is WholesaleX?
WholesaleX is the simplest B2B and B2C hybrid solution out there. It's a WooCommerce plugin that turns your store into a fully functioning wholesale store.
With WholesaleX, you can create a dynamic environment where buyers and sellers can connect, making business easier and providing customers with a better shopping experience.
WooCommerce makes it possible to start offering discounts on items. With just a few clicks and no technical expertise, WholesaleX makes a regular WooCommerce store into a complete B2B store with an extensive collection of advanced features.
WholesaleX also lets you create a hybrid store, meaning you can manage both B2B and B2C together without any hassles.
WholesaleX Features Overview
WholesaleX is the ideal platform for anyone looking to start a wholesale B2B store.
It is an optimized eCommerce solution that streamlines online product sales, increasing revenue and improving the consumer experience. With regular feature updates and fantastic support, it will surpass the industry's top competitors in no time.
WholesaleX offers a wide range of features, including wholesale pricing, multiple pricing tiers, dynamic discounts, shipping methods, form builder, request a quote, bulk orders, subaccounts, and more.
We will showcase all the features here and ensure you get the best for your wholesale store.
Dynamic Discount
In the ever-evolving world of eCommerce, one thing remains constant: the importance of pricing. To succeed in this competitive landscape, you need a pricing strategy that's not only flexible but also perfectly tailored to your business and customer requirements.
Try WholesaleX – the game-changer that simplifies wholesale pricing like never before. Whether dealing with store-wide discounts or targeting specific users, roles, or products, WholesaleX empowers you with precision and control.
Here are the dynamic discount types you can use:
Product Discount
Payment Discount
Cart Discount
Quantity-Based Discount (Tiered Pricing)
Shipping Rule
Tax Rule
Payment Order Quantity
Maximum Order Quantity
Minimum Order Quantity
Buy X Get Y (XY)
Buy One Get X (BOGO)
Extra Charge
WholesaleX continues beyond dynamic rules alone. Take your discount strategies a step further by setting usage limits and time-specific discounts.
User Roles
WholesaleX offers customizable user roles and access levels to create better customer experiences. You can effortlessly manage users by group with unlimited user roles, create and assign users to roles, and manage groups of users efficiently by facilitating them with offerings and restricting them with necessary conditions.
WholesaleX makes it easy to create an unlimited number of user roles. You can also facilitate multiple users by offering them tax exemptions, free shipping, auto role migration, etc. If stock is getting limited, you can handle it with credit limits, turning off certain payment methods, or disabling coupons for a limited time until you restock.
With WholesaleX, you can create a customized user experience tailored to your needs and requirements.
Registration Form Builder
In the ever-evolving landscape of eCommerce, precision and efficiency in managing sales and delivering products and services are essential. Your ability to tailor experiences for B2B and B2C customers can make all the difference.
The Registration Form Builder by WholesaleX is a game-changing feature that empowers you to create tailored registration forms with remarkable ease and control.
WholesaleX's Registration Forms Builder is designed for convenience. It doesn't just create forms; it makes them accessible anywhere with a simple shortcode. Create seamless, customized registration experiences with WholesaleX that set you apart in the competitive eCommerce landscape.
Request A Quote
One of its standout features, the "Request A Quote" functionality, is changing the game for both customers and store owners, making the entire shopping process simpler, more efficient, and ultimately more profitable.
In a world where time is of the essence, WholesaleX's "Request A Quote" feature simplifies the shopping experience. It transforms how customers interact with your store and revolutionizes your ability to meet their unique needs.
Whether you're a seasoned eCommerce business or just starting, this feature opens up new possibilities for custom prices, negotiation, and growth. It's not just a feature; it's a strategic advantage.
Add WholesaleX's "Request A Quote" feature into your WooCommerce store today and witness firsthand how it can increase sales, improve customer satisfaction, and make the online shopping experience efficient and delightful.
Bulk Order
Another time-saving solution designed to streamline the purchasing process for registered users is the WholesaleX bulk order addon.
This addon empowers registered users to select products in bulk with incredible ease. Instead of individually adding each item to their cart, they can now assemble their orders in a single, efficient action.
But the benefits don't stop there. It allows users to save their order lists as Purchase Lists. This means they can revisit their saved lists anytime, making reordering a breeze.
Subaccount Management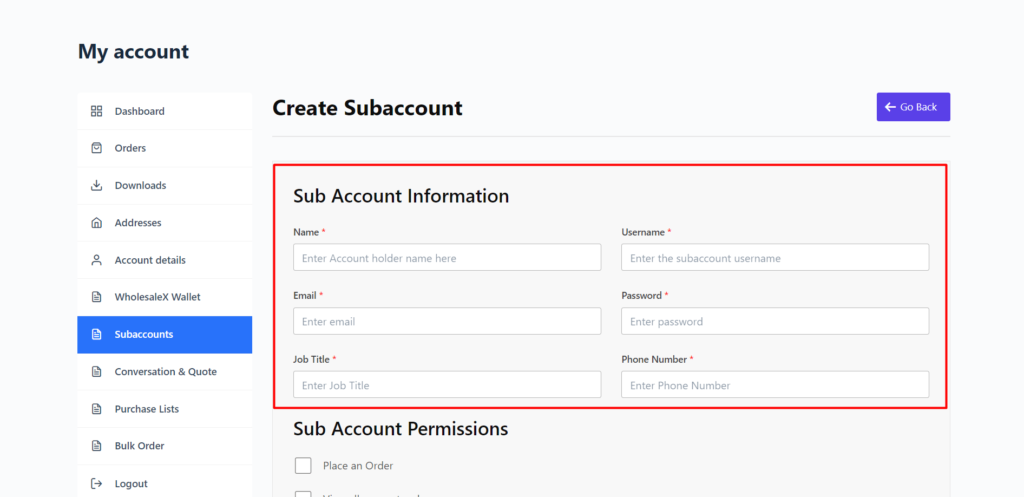 WholesaleX's Subaccount Management addon empowers you to create and manage subaccounts with unparalleled precision.
Add, modify, or remove subaccounts effortlessly, ensuring your team or partners have the right level of access at all times. It's the ultimate way to maintain agility in your eCommerce operations.
Receive notifications whenever a new subaccount is created. Stay in control and manage your eCommerce ecosystem proactively. Be informed whenever subaccount holders place orders.
Private Store
WholesaleX understands that not all customers are the same and not all products are meant for the public eye. The Private Store feature is a game-changer for businesses looking to create a more exclusive and controlled shopping environment.
With WholesaleX, you can make your store private, ensuring only logged-in users can access its contents. Say goodbye to casual window shoppers and hello to a focused, engaged audience.
The flexibility of WholesaleX allows you to customize the visibility of products to align perfectly with your business strategy. Display products to specific user groups or roles, tailoring the experience for different customers.
WholesaleX's Private Store feature empowers you to create a more exclusive, tailored, and secure shopping environment.
Conversation
Stay connected with your Wholesale store customers using the Conversation addon from WholesaleX!
Display conversations on the My Account page. All B2B users can send you messages via the conversation area. So you can hear them out, answer their questions, and solve their issues.
Effortlessly manage conversations as store admin. So, the store admin will be able to read all messages and reply to them accordingly. Differentiate customer messages into three options: quotes, inquiries, and messages.
Wallet Management
The WholesaleX plugin has a dedicated store wallet that allows users to add funds and use them to purchase products from your WooCommerce store.
Users can add funds to their wallets using the WooCommerce payment systems you have enabled. Once funds have been added, users can use their wallet as a payment method when purchasing products from your store.
Encourage users to use the wallet by offering special discounts for purchases made with the wallet. This will help you increase the rate of returning customers. The store admin can manually add credit to a user's wallet by accessing the user's profile.
Pricing
WholesaleX Pro is an unbeatable value that can be paid annually or as a one-time payment. In addition, a 14-day money-back guarantee is included.
The free version is available for no charge.
The annual pricing is as follows:
Starter: $129
Business: $199
Agency: $299
The lifetime pricing is as follows:
Starter: $249
Business: $399
Agency: $699
The best part is that the agency pack includes access to unlimited sites and no recurring payments, and it also comes with an additional White Label feature. This is an offer that is too good to pass up!
Conclusion
In short, WholesaleX is an all-in-one wholesale solution for WooCommerce that offers a comprehensive suite of features to help businesses succeed in the eCommerce world.
These features include dynamic pricing strategies, custom registration form, private store, request a quote, bulk order, conversation, subaccount management, and wallet management.
WholesaleX is a strategic advantage for businesses looking to elevate their eCommerce game.